UK On The Lookout for Post-Brexit Trade Opportunities in ASEAN
2nd August 2019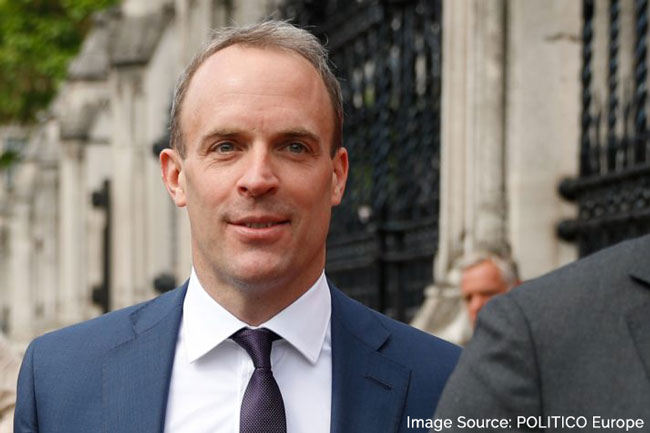 The UK's Foreign Secretary Dominic Raab travelled to Thailand this week to join a meeting of ASEAN ministers and discuss the UK's trade opportunities with Southeast Asian nations after Brexit.
Raab visited Bangkok for the ASEAN2019 summit on his first overseas trip as Foreign Secretary, and said that Asia holds huge opportunities for the UK.
"Great to meet so many fellow foreign ministers at #ASEAN2019 in Bangkok today to discuss shared challenges and opportunities & the UK's post-Brexit ambitions," Raab tweeted from Bangkok after he met the foreign ministers of Norway and of ASEAN member Indonesia.
More than 50 representatives of the British-Thai business community in Thailand met Raab during his visit to Bangkok.
"Thailand and ASEAN remain important trading partners of the UK, and will be even more so, after we leave the EU," the British Embassy in Bangkok said on Twitter.
Before departing for Thailand, Raab said in a statement by the Foreign Office:
"For too long, our trade focus has been on Europe. We need to expand our horizons, and raise our game. That means grasping the enormous global opportunities for the UK - and my first trip as Foreign Secretary will look to strengthen our friendships across Asia."
"This region is already worth £36 billion per year in trade with the UK – and there are opportunities for us to boost that trade to benefit UK businesses and consumers. I'll also be looking at how we can strengthen our regional security co-operation, and work together on global challenges like climate change," Raab noted.
"The UK is committed to the continuously growing partnership with ASEAN on trade, climate, cybersecurity, the digital economy & many more," the British Embassy in Bangkok said.