Indonesia, Australia Sign Free Trade Agreement
8th March 2019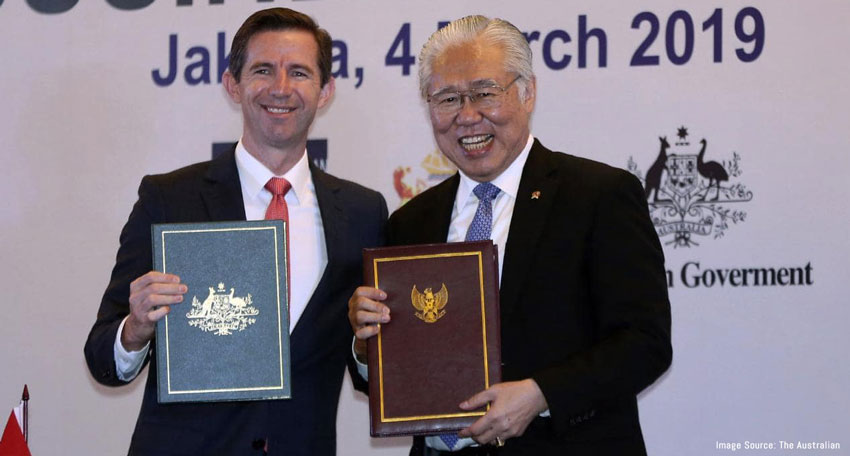 Australia and ASEAN member Indonesia signed on 4 March a landmark
free trade agreement to bolster the economic relations between two of the
major economies in the region.
Australian Minister for Trade, Tourism and Investment, Simon
Birmingham, signed the Indonesia-Australia Comprehensive Economic
Partnership Agreement (IA-CEPA) with Indonesian Minister for Trade H.E
Enggartiasto Lukita in Jakarta, Indonesia. The historic treaty launches a
new chapter in the economic relations between Australia and Indonesia.
Under the new trade deal , all Indonesian goods exports will enter Australia
duty free, while 99 percent of Australia's goods exports will either enter
Indonesia duty free or with significantly improved preferential
arrangements. The agreement also provides for reducing non-tariff
barriers to trade and simplifying paperwork.
IA-CEPA builds on commitments of the existing free trade agreement, the
ASEAN-Australia-New Zealand Free Trade Agreement (AANZFTA), across
goods, services, and investment.
The agreement signed on 4 March will also improve conditions for two-
way investment and for services suppliers, providing an opportunity for
Indonesian and Australian businesses to expand and diversify their
economic partnership, Australia's Department of Foreign Affairs and Trade
said.
In 2017-18, Australia's total two-way trade in goods and services with
Indonesia was worth AUS$16.8 billion (US$11.8 billion / £9 billion), which
made Indonesia Australia's 13th largest trading partner.
"Bolstering economic ties between our nations will create new trade
opportunities for Australian and Indonesian businesses, boost two-way
investment and increase prosperity in both countries," Australia's Prime
Minister Scott Morrison and Minister Birmingham said in a joint statement .
"With a population of 270 million and high levels of economic growth,
Indonesia is on track to become one of the world's largest economies. This
makes the strengthening of our ties both strategically and economically
important," they said.