European Parliament Approves EU-Singapore Free Trade Deal
15th February 2019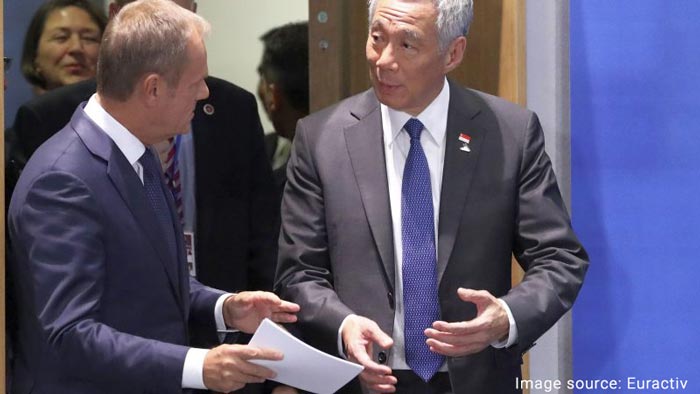 The European Parliament approved on 13 February the free trade and
investment protection deals between EU and Singapore—the first bilateral
trade agreement between the bloc and a member of ASEAN, which could
serve as a stepping stone to further bilateral deals between the EU and
ASEAN states.
The EU-Singapore agreement will remove virtually all tariffs between the
two parties within five years. The deal will also allow for free trade in
services, including retail banking.
The Trade Committee at the European Parliament had endorsed the deal
in late January.
The agreement includes removal of many non-tariff barriers—Singapore
will recognise the EU safety tests for cars and certain electronics, including
household devices or adapters. It will also accept EU labels and markings
for clothing and textiles. Singapore will also protect some 190
Geographical indications (GIs) of EU food and drink producers, including
those of Jerez wine, Comté cheese, Nürnberger Bratwurst, and aceto
balsamico di Modena.
The deal opens up the Singaporean procurement market, and liberalises
financial, postal, telecommunications, transport, and information
technology services. Under the agreement, Singapore will implement core
labour rights conventions, the Paris Agreement on climate change, and
the sustainable management of forests and fisheries.
"The trade agreement will not only enhance the EU's access to the
Singapore market, but even more to the growing ASEAN region, while
ensuring workers and the environment are well protected. The investment
protection agreement incorporates the EU's reformed approach, and will
replace the existing Singapore-EU member state deals that include the
toxic investor-state dispute settlement," said David Martin (S&D, UK), the
rapporteur on the agreements on the free trade and the investment
protection deals.
Singapore is the EU's largest partner in the ASEAN region, accounting for
nearly a third of EU-ASEAN trade in goods and services, and roughly two-
thirds of investments between the two regions. More than 10,000
European companies have their regional offices in Singapore.